Covid-19 Autumn Booster and Flu Vaccination
Again, this year we are being asked by the Government to provide a covid booster vaccination to eligible patients in conjunction with our normal flu campaign.   We are hoping to administer Flu and Covid together starting with our patients aged over 80 and are contacting these patients to book an appointment.  We then plan to invite the rest of our patients working down through age and at-risk groups, from October onwards. We understand not all patients will want to receive both vaccinations and we will accommodate this.
Flu Vaccination
If you are aged over 65 or aged under 65 and usually have a flu jab due to a pre-existing condition and would like your flu vaccination sooner, please book your appointment online or contact reception.
Patients aged under 65 and not at risk are eligible to book their flu vaccination from 15th October.
Updated 26th May 2022
Harbourside Family Practice are running a covid vaccination clinic on Saturday 18th June in the morning for 5-11 year olds for both 1st and 2nd jabs. You do not have to be registered at Harbourside. Please call us on 01275 868500 to book an appointment.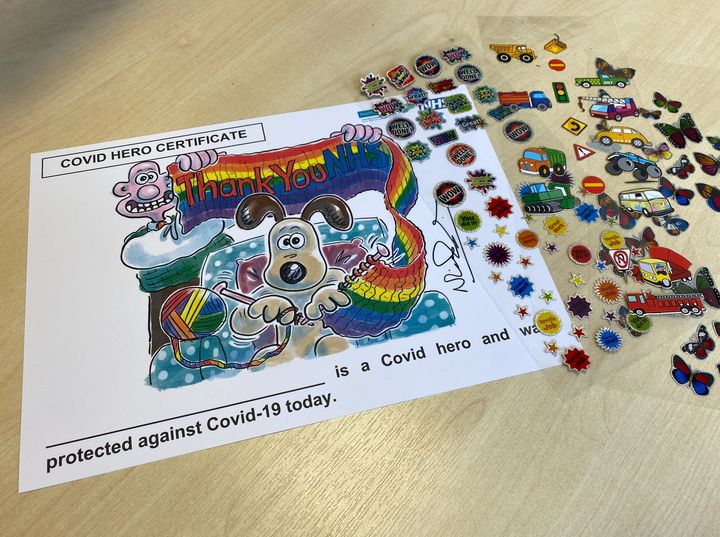 Updated 10th December 2021
In light of the recent Government announcement regarding the extension of the COVID booster campaign due to the Omicron variant, Gordano Valley PCN will continue to offer booster vaccinations to all of its population. Vaccinations will be offered at sites across Clevedon, Portishead and Pill throughout December 2021 and January 2022. Patients will be sent an invite as soon as they become eligible.
Updated 3rd September 2021
Third dose vaccination for severely immunosuppressed aged 12+
The JCVI has advised that people with severely weakened immune systems should have a third COVID-19 vaccine dose. This is separate to any potential COVID-19 booster vaccination. There are national recommendations as to who is considered eligible for the third vaccine and General Practices are working with Hospital Specialists locally to identify those who should receive this. There is no need contact the NHS. If you or your child is eligible for vaccination, we will contact you.
For more information see JCVI issues advice on third dose vaccination for severely immunosuppressed - GOV.UK (www.gov.uk)
Updated 4th August 2021
Covid-19 Boosters and Flu Vaccination
This year we are being asked by the Government to provide a covid booster vaccination to patients in cohorts 1-9 in conjunction with our normal flu campaign. We are hoping to undertake these clinics at Heywood Family Practice. We will be contacting patients with more information once the clinics become available. We anticipate our first clinic will be held at the beginning of October 21. The exact date will be finalised as soon as we receive the vaccine delivery dates. Patients do not currently need to take any further action.
This year's campaign will be significantly different to previous years and we would appreciate your patience and would ask you not to ring the practice until we contact you directly to invite you to book into a specific clinic.
We understand not all patients will want to receive both vaccinations and we will accommodate this.
Updated 12th July 2021
Covid-19 vaccine pass
Should you not have access to the NHS App for any reason please see the link below or call 119 to access a record of your vaccinations. Please don't contact the practice.
Get your NHS COVID Pass letter
Updated 21st June 2021
All patients over the age of 18 should now have been invited for their first vaccination either at Harbourside Family Practice or via the National Booking System.
In response to the accelerating spread of the more transmittable Delta variant of Coronavirus, we urge you to get vaccinated this week if you have not already done so.
Despite our efforts, we still have a significant number of adult patients have not come forward to book their first vaccination.
The science is clear that vaccination is necessary to curtail the spread of the virus and the restrictions placed upon our lives.
If you are aged 18 or over and you haven't yet had your vaccination, we urge you to get in contact with us on 01275 372105 to book into our last first dose Pfizer vaccination clinic this Saturday 26th June 21 which will be held at Harbourside Family Practice or contact 119 to book your appointment via the NBS.
Updated 2nd June 2021
We have our last 2nd dose AZ(Oxford) vaccination clinic at Heywood Family Practice on 5th June 2021 which has now covered Groups 1-9.
Group 10 patients anyone not yet booked can contact the NBS online or by calling 119.
We have also attempted to invite all those in group 11 (30-39 and those over 25 in group 12 for their 1st Pfizer vaccination. 1st Pfizer's are being administered at Harbourside Family Practice (part of our Primary Care Network) on invitation from us.
National booking system invitations are also going out allowing you to book at a number of different sites.
Updated 23rd March 2021
Saturday 27th March am Covid-19 vaccination 1st dose clinic at Heywood Family Practice.
This is open to book for anyone over 50 or aged 18-64 (in the underlying Health Conditions group) who hasn't had their first vaccination yet.
We will move on to under 50s first doses towards the end of April 21 once supplies are available.
2nd doses
We will be working through all those who have had a first dose either at Heywood Family Practice or at our designated site Portishead Medical Group to book you in for your 2nd doses over the coming months.
Updated 8th March 2021
We are making good progress with Covid vaccinations. Anyone from Group 6 (18-64 underlying Health conditions), 7 (60-64 years old) or 8 (55-59 years old) that hasn't been contacted and hasn't booked an appointment either at a mass vaccination site like Ashton Gate or at Heywood Family Practice please now call us and we can advise of vaccine availability.
We started doing 2nd doses this week for those patients vaccinated at Portishead Medical Group. Please wait to be contacted by us for your 2nd dose appointment and don't call the practice – WE WILL CONTACT YOU. Thanks.
Updated 25th February 2021
We are now vaccinating group 6 patients (those with underlying health conditions). Group 7 patients (aged 60-64) will also shortly get a letter from the NHS advising that they can book at the mass vaccination site. Details will be included in the letter regarding booking.
If you are 65 or older and haven't yet had a vaccine please do contact us.
Updated 23rd February 2021
Vaccination of Unpaid Carers
As part of priority Group 6, we are now vaccinating people with underlying health conditions and unpaid carers. Unpaid carers are defined as:
people who are eligible for Carer's Allowance, or
people who are the sole or main carer of an elderly or disabled person who is at increased risk of Covid-19 mortality and is therefore clinically vulnerable.
To be eligible for vaccination as part of Group 6, carers must deliver personal care to the individual at risk. This does not include, for example, shopping or cleaning.
Registered Carers
If you are already registered as a carer with your GP or Local Authority, or you have been confirmed as eligible for Carer's Allowance, you will be invited for vaccination by your GP or asked to book through the national booking service. Please do not contact the NHS.
It is possible you may be invited for vaccination more than once. Please do not be concerned and only book one appointment.
Unregistered Carers
If you deliver personal care to an 'at risk' person but are not registered as a carer or are not eligible for Carer's Allowance, you will also have the opportunity to be vaccinated. Further information about this will be available in the next few weeks. In the meantime, it is very important that you do not contact your GP or Local Authority directly to request a vaccination.
In Bristol, North Somerset and South Gloucestershire we are contacting people in Group 6 in order of those at most risk of a more severe outcome from contracting Covid. Please do not be concerned if you are not contacted immediately for vaccination or have to wait a short while to book an appointment. We are working tirelessly to vaccinate everyone who is eligible as quickly as possible. Please be patient and kind to our staff; we will be in touch when it is your turn.
Don't forget, if you want additional support as a carer, or know of someone who does, please contact the relevant Carers Support Organisation, below:
Bristol and South Gloucestershire: info@carerssupportcentre.org.uk or 0117 965 2200
North Somerset: carersupport@alliancehomes.org.uk or 03000 120 120 (option 3)
Please note that the Carers Support organisations have no further information on the vaccine programme other than that above.
Updated 3rd February 2021
Please note that National letters are now being sent inviting over 70s and the clinically extremely vulnerable to book a vaccine appointment via the NHS website or by ringing 119. The letter enables you to book an appointment at the local mass vaccination centre (Ashton Gate) or pharmacy. You do not need to do this if you would prefer to be vaccinated by us. We can assure you that we have your details so you don't need to contact us if you haven't heard from us yet - we will contact you very soon. Please only book your appointment at one location. Many thanks.
Updated 27th January 2021
Great news we have been authorised to vaccinate using the AstraZeneca (Oxford) vaccine at the practice. We cannot store the vaccine here but can use it for pre booked clinics. This of course is dependent on vaccine supply. Please don't call or contact us we will be in contact when it is your turn and we have vaccine to administer.
The Pfizer vaccination will continue at the designated main site in Portishead as this vaccine can't be moved.
Information Leaflet on the 2nd dose of vaccine
We continue to prioritise everyone in cohorts 1 and 2 (the over 80s, care home residents and health and care staff), almost all who wanted one have been vaccinated now. However, over the course of last week, we have also been introducing appointments for those aged over 70 years and the clinically extremely vulnerable population (cohorts 3 and 4). We are reminding people not to contact us at the practice as we will be in touch. There will be enough vaccine for everyone who wants one and staff are working round the clock to ensure the safe and effective delivery of this vaccination programme.
Updated 15th January 2021
Covid-19 Questions & Answers
I've received a letter about booking my vaccination appointment - what should I do?
Letters are being sent inviting patients to book a vaccine appointment via the NHS website or by ringing 119. This being done by age cohort, in line with the JCVI guidance. This is an invitation to book an appointment at a mass vaccination centre - our local one is Ashton Gate stadium. You can do this by following the instructions in the letter. You do not need to do this if:
You would prefer to get your vaccine at the practice. We can assure you that we have your details so you don't need to contact us - we will contact you when it's your turn.
You already have an appointment booked with your practice to get your vaccine.
You have already had your first dose with the practice - we'll contact you when it's time to come in for your second.
If you are unable to book an appointment using the details in the letter, don't worry. We have your details and we will contact you to invite you for an appointment very soon.
When will I get the vaccine?
Staff are working tirelessly to ensure the necessary measures are in place for those most at risk to get their vaccine first. To do this, we are following a nationally set prioritisation order, from which we are unable to deviate.
The priority list from the Joint Committee on Vaccination and Immunisation is as follows:
residents in a care home for older adults and their carers*
all those 80 years of age and over and frontline health and social care workers**
all those 75 years of age and over
all those 70 years of age and over and clinically extremely vulnerable individuals
all those 65 years of age and over
all individuals aged 16 years to 64 years with underlying health conditions which put them at higher risk of serious disease and mortality
all those 60 years of age and over
all those 55 years of age and over
all those 50 years of age and over
*Please note that 'carers' in this context refers to care home staff. If you are a personal or family carer you will be vaccinated within your age-related or clinically vulnerable group if that applies to you.
**Please note that frontline health and social care workers should contact their employer about getting their vaccination, not their registered GP surgery.
It is estimated that taken together, these groups represent around 99% of preventable mortality from COVID-19.
We are currently vaccinating patients in cohorts 1 and 2.
I'm in an eligible cohort. Should I call the practice if I haven't heard anything?
While a vaccination programme of this scale will take some time, we can assure you that everyone who needs the vaccine will be offered it. We ask that you don't contact your practice directly – we will contact you when it is your turn to be vaccinated.
Why haven't I had my vaccine when others the same age already have?
All the GP surgeries in our area are now offering the vaccine to their eligible patients. Staff have been working tirelessly to get this up and running over the last month but the scale of the vaccination programme means that this could not happen in every GP surgery at once. This is the same across the country. If you are in an eligible cohort and you haven't yet heard from us, you do not need to contact us directly. We can assure you we have your details and we will contact you when it's your turn.
When will I get my second dose?
The NHS is following new guidance from the Government's expert advisors which says that prioritising a first dose for as many people as possible will save more lives. This is because even with just one dose the vaccine has been estimated to offer at least 74% effectiveness from two weeks after it is given.
Therefore, as a key part of the national effort to protect as many people in at-risk groups as quickly as possible, second doses will now be delivered in the 12th week following your first dose. We will be in touch to schedule your second dose appointment soon.
We apologise if we have had to reschedule your appointment.
When will the next cohorts be vaccinated?
We are making great progress in vaccinating our patients in the first two cohorts. This includes patients who can visit the practice, as well as some who we need to vaccinate in their home or care home. When it is time to move onto the next cohort, we will be told by the government and they will arrange for us to get a vaccine delivery. Once this happens, we will contact you. The government ambition is to offer vaccines to everyone in the first 5 groups (13 million people) by the middle of February.
I have a question about the COVID vaccine - what should I do?
There is lots of information available online - try our GP surgery website. You can also try nhs.uk/covid-vaccination. We will get in touch with you when it is your turn to be vaccinated - you do not need to contact us to ask when this will be.
Updated 6th January 2021
Frontline Health and Social Care Workers
A second Covid vaccine (from Oxford/AstraZeneca) has now been authorised by the MHRA for use in the United Kingdom. As a result of this, the government has been able to substantially accelerate vaccine delivery. We expect to have access to more vaccine supply in January than in December, and more supply in February than in January, and so on.
This increased supply means that vaccination can now be immediately expanded to include frontline health and social care workers.
If you are a frontline health and social care worker, please contact us by sending an email to heywoodfamilypractice@nhs.net
The information we will need from you is:
Your full name and date of birth
Your employing organisation
Proof of employment (e.g emailing from a work email address, or getting a work colleague to email to verify that you work for that organisation)
A contact number to get hold of you so that we can book you in for a covid vaccine appointment.
Dose update
Government advice has been changed re dosing. A second dose now at 12 weeks not 3 weeks will also be needed.
16th December 2020
Following extensive trials, the first safe and effective COVID-19 vaccine has been approved in the UK and is now available to priority groups.
Heywood family Practice is working with other surgeries in our area to offer COVID-19 vaccination clinics. Vaccinations are being delivered according to priority groups identified by the Joint Committee of Vaccination and Immunisation (JCVI).
Due to the storage requirements and the fragility of the vaccine the government has mandated that the group of surgeries only vaccinate from one site. Our vaccination site will be in Portishead and details will be given when we contact you to make an appointment.
When it is the right time for you to receive your vaccination, you will receive an invitation to come forward. This may be via the phone, or through a text or letter either from your GP or the national booking system.
We know lots of people will be eager to get protected but we are asking people not to contact us to get an appointment as you will not be able to get one until you are contacted.
You need 2 doses, 3 weeks apart. We will book both appointments at the same time. It is very important that you attend both appointments. The immune protection will take some weeks to be relied upon.
For those that are interested about details on the vaccine itself, there is already lots of information about the Pfizer Biontech vaccine in the public domain. Please click on the links below for more information.
Information Leaflets
Guidance for patients who have been invited to a COVID-19 vaccination clinic
It is very important that you attend both appointments but please do not come if you have any possible COVID symptoms.
If you are not able to attend you must let us know as soon as possible.
Please come into the surgery independently. Any carers or people that bring you down must wait outside.
You will need to wait for 15 minutes after your vaccination.
Please arrive at the time of your appointment and queue in the marquee at the side of the surgery
Please wear a face mask
Please wear short sleeves or a vest-sleeved top so that we can access your upper arm easily
Please park in the Homebase car park across the road if possible to reduce congestion near the surgery
You should not have any other vaccinations within 7 days before or after your COVID vaccination
7th December 2020
Dear Patients,

You will have heard that a COVID vaccination programme is very soon going to be rolled out to the first eligible cohort of patients. We have to mobilise and adapt very quickly to enable the successful roll out of this programme. We hope to be in the 2nd or 3rd rollout wave in which the vaccine will be delivered to the vaccine delivery site sometime towards the end of December 2020. Initially our vaccine delivery site is likely to be in Portishead.
The first people to be invited by us will be those 80 years old and over. Other age groups will follow. Please avoid calling the practice for further information on Covid-19 vaccination as we will contact patients in order of priority.
We also need your support. As things are moving so quickly we may need to call you or send out text invites in case the Post Office is not able to deliver letters on time. To that end, if you know or care for someone over 80 we need you ask them if they have a mobile or landline number registered at the surgery and to check if it is correct. We will of course have back-up systems in place for those patients that don't have mobile phones.
In order to support General Practice in delivering this programme, NHS England and the CCG have issued clear guidance on creating capacity by focussing only on urgent work and certain key areas. This means we may have to re-prioritise non urgent work and cancel non-urgent appointments at short notice. We would like to reassure you that as always, we will continue to offer urgent care throughout this time.
Additionally, you will be used to receiving invites for health reviews. However, certain reviews (e.g. Asthma, COPD and Diabetes etc.) may be temporarily interrupted at times over the next 4 months. Please do not be alarmed if you do not receive an invite for review - we may have to be focussing on delivering COVID vaccinations and will aim to catch-up on reviews and monitoring bloods when possible.
As you can appreciate, the landscape is changing very quickly and our priority remains the care of our patients whilst delivering this programme. Thank you for your patience and support.
Heywood Family Practice