OTR
OTR's Hubs are a safe and relaxed space you can simply drop into for a chat; no appointments needed. They are there for you to meet the OTR team and discover more about what they offer. You'll find they are a great place to learn about mental health and self-care too.

These sessions run every week throughout the year, but there are other Hubs that pop-up across Bristol and South Gloucestershire at different times and venues time. Sign up to the OTR E-Newsletter for the latest on when and where these are.
Visit their website by clicking here.
Unity
Unity are a free NHS service providing STI testing and treatment, contraception and pregnancy advice for Bristol, North Somerset and South Gloucestershire.
The service is confidential, non-judgmental and for people of all ages, genders and orientations.
You can find information on their website on how and where to access the service you need.
Unity Sexual Health is provided by University Hospitals Bristol NHS Foundation Trust in partnership with the following:
British Pregnancy Advisory Service
Brook
Marie Stopes UK
North Bristol NHS Trust
Terrence Higgins Trust
Weston Area Health Trust
Unity's aim is to provide a high quality informative service which supports our users. Everyone should be able to easily access their services to support healthier relationships and sexual well-being throughout life. Visit their website by clicking here.
Wellbeing Hub Support for 16 to 25 year olds
Wellbeing Hub is now live! Supportive Parents
In these challenging times, it is more important than ever to ensure we are taking care of our wellbeing. We continue to look for new ways to keep young people supported and informed.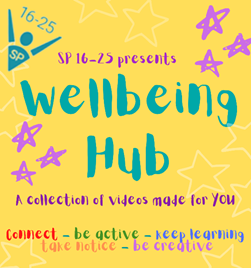 The Wellbeing Hub - What is it?
The Hub is an online portal which provides young people with access to information about local services which can support wellbeing. It is full of helpful videos and information from wonderful partner organisations across Bristol and North Somerset, showcasing a range of activities and opportunities to get involved with.
The Wellbeing Hub is based on the 5 Ways of Wellbeing - a national initiative that focuses on the 5 steps we can take to improve our wellbeing:
CONNECT - BE ACTIVE - KEEP LEARNING - TAKE NOTICE - BE CREATIVE